Highland High School
Class of 1991
In Memory
Michael J. Gallegos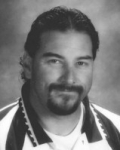 Michael Gallegos
1973 - 2012
Our wonderful husband and daddy, Michael Gallegos, was tragically taken from us on June 23, 2012. He was born April 5, 1973 to Catherine Sherwood and Gilbert Gallegos in Salt Lake City. He graduated from the U of U and continued to be a huge Ute fan. "Everyone Bleeds Red."
He coached girls golf, girls softball, Highland High wrestling and several High School football teams, most recently at Cottonwood High. He worked at Highland High School. In his spare time he loved cooking, golfing, fishing and being with his family. He married Debbie Anderson in the Lake Temple on April 12, 2003. He was active in the LDS Church, served in the Elders Quorum Presidency, and most recently served as an Elders Quorum Instructor.
Michael was preceded in death by his parents. He is survived by his wife Debbie, his children Kyrsten (age 7), Nathan (age 5) and his sister Christina Gallegos. Please Don't Drink and Drive.
Funeral services will be held Wednesday, June 27, 2012 at 11:00 a.m. at the Valley Park 4th Ward, 2603 West 4700 South. A visitation will be held from 9:30 to 10:45 a.m. prior to the service. Interment at Valley View Memorial Park.
Donations can be made to the Michael Gallegos memorial fund at Granite Credit Union or America First Credit Union.

Published in Deseret News on June 26, 2012