Highland High School
Class of 1991
30-Year Reunion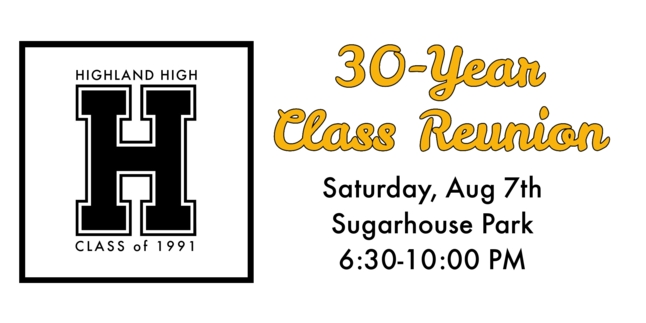 Join the party! Make your plans today to gather with classmates from the Class of 1991. Spend a summer night at the park making new connections and gathering with old friends.
Date: Saturday, Aug 7, 2021
Time: 6:30 - 10:00 pm
Place: Sugarhouse Park, Parley's Creek Pavilion (Located near the center of the park, near the children's play area; the last pavilion on your left, before you see the Highland field on your right.)
Invited: Class members + Guest
Dinner: Kneaders Boxed Dinner & Soda Bar included in your ticket price. Please indicate your preference in your registration. Dinners will be available on a first-come, first-served basis, so arrive early to get your top pick.
Short Program at Dusk
Zoom Attendees: For those who can't attend in person, we're hosting a Zoom meeting for part of the evening to chat, view the in-person program, and wave hello. Please register with a Zoom ticket so we know who's interested.
Service: The challenge has been issued! We're hoping the Class of 1991 can give back to the Highland community by supporting the Highland High Food Pantry. Donations are managed by the SL Education Foundation and directly benefit the low-income, homeless and food-insecure students at Highland. Our goal is to have 100% of our class donate $25 for a total of $10,000. Don't forget to mark Class of 1991 in the Tribute line.
Tickets: Early-bird pricing starts in May! Purchase sooner and save yourself some dough. Prices go up each month. Per person ticket prices listed below. Register today!
May $30
June $35
July $40
August $45
Payment: To keep costs low, we are accepting payments by Venmo to @HHRams91. Register here and then include your full name and guest name in your Venmo comment. Search under Venmo Business.
Reach out to your classmates and encourage them to join the class website, highlandrams1991.com. It's free and a great way to stay connected. And spread the news about the reunion!
Contact the Reunion Committee at highlandrams91 [at] gmail.com with questions.