Highland High School
Class of 1991
In Memory
George Q. Cannon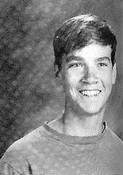 George Q Cannon, 17, died Wednesday, August 22, 1990 of injuries resulting from a biking accident.
George, a senior at Highland High School, is the son of Joel R. and Lynne Thomas Cannon and the brother of Steven and his wife, Tammy, now living in New York City, Sally and her husband, Jason Drecksel, and Anne, Alice and Joey all of Salt Lake. His grandparents are Warren and Betsy Cannon of Salt Lake and Owen and Ruby Thomas of Twin Falls, Idaho.George was born May 24, 1973 in Bountiful, Utah.
Services will be held Saturday, August 25, at 10 a.m. in the Parleys Fifth Ward, 2615 Stringham Avenue. Friends may call Friday evening from 6-8 at Larkin Mortuary, 260 East South Temple, and one hour prior to the services at the ward. Interment, Wasatch Lawn Memorial Park.
Thanks to Paul Porter for sharing the link.